Sister Mary kehrt mit düsteren Halfstep Sounds zum Aufect Label von Greazus zurück und kann mit den vier Tracks auf der Omega EP durchaus überzeugen. BPM-technisch ist von 140 – 172 alles dabei, der Bass drückt, die Samples sitzen und die Snare knallt. Wie gesagt, alles sehr dunkel und schemenhaft, aber Mark sagt über seine neue EP ja auch selbst: " 4 brand new tracks straight from the darkest parts of my psyche". Wisster bescheid.
Zu kaufen gibt es die Omega EP bei Bandcamp oder allen anderen digitalen Shops.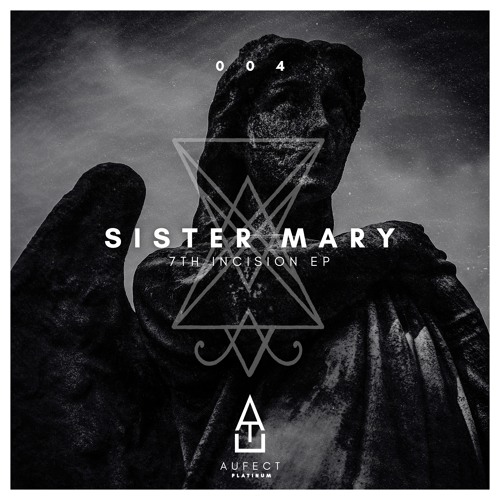 Mark Instinct hat ein neues Alias am Start, unter dem er gerade eine ziemlich geile EP auf Greazus' Aufect Platinum Label veröffentlicht hat. Als SISTER MARY kümmert er sich weiterhin um Tracks mit viel Subbass, diesmal aber auch auf anderem Tempo als 140 BPM. Die vier Nummern auf der 7th Incision EP haben alle einen düsteren, melancholischen Touch, der perfekt zum Cover selbst passt. Coalescence, diese dubbige Trap Nummer, hat mich sofort von den Socken gehauen, aber die drei schnelleren Tracks dürften sicherlich auch einige Clubwände zum Wackeln bringen. Hier sticht für mich ganz klar der 7th Incision raus, bei dem sich ein eindringliches Vocal Sample mit einer düsteren Melodie paart und so eine ganz besondere Stimmung entsteht. Kaufen könnt ihr die EP bei Bandcamp.