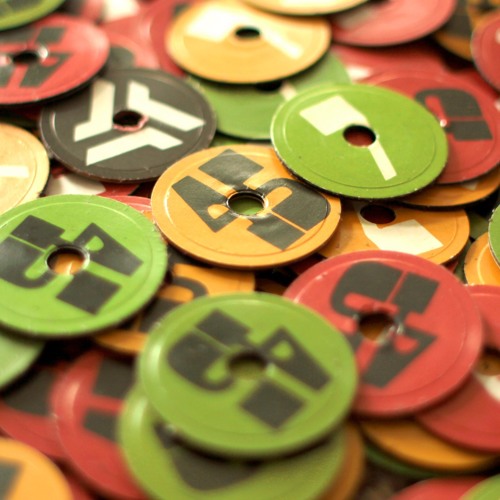 Jeder, der sich schon einmal mit Drum & Bass aus Leipzig beschäftigt hat, weiß: Das 45Seven Sublabel ist eins der besten Ergebnisse, das die Bassexperimentenküche von Vinylmeister LXC in letzter Zeit verlassen hat. Der Sound des Labels paart die warmen, alten, analogen Geschichten der Roots Studios aus Jamaika mit Einflüssen aus Jungle, Drum & Bass und Trip Hop und bildet damit einfach die perfekte Mische um einerseits bei den Old School Samples entspannt mit dem Kopf zu nicken und andererseits auf dem Dancefloor dazu zu tanzen. Und dazu kommt dann noch das großartige Design der 7″ mit dem großen Loch in der Mitte.
45Seven is a 7″ imprint specialising in all things dubwise – from rootsy jungle to cosmic dub. Mastered and cut by the vinyl professor LXC and pressed on authentic 7″ with cut out holes, these releases pack a punch – just like the original 45's that shook Jamaican sound systems to their foundations in the 70's!
Jimi Handtrix hat sich in einer Stunde nun dem Label und seinem Sound angenommen und diesen Mix ausschließlich aus 45Seven Material zusammengeschustert. Nicht weiter verwunderlich, übernimmt 45Seven doch einen eigenen Floor bei seiner nächsten Veranstaltung im Mensch Meier. Der Sound wärmt mir hier gerade schön die Bude, passt auch perfekt zu kaltem Dezember Wetter.
Tracklist:
01 – King Fifi – King Riddim
02 – King Fifi – The Riddim
03 – Flatliners – Raw Fi Dub
04 – King Fifi – Oh Baby
05 – Lowcut – Never Get Burned
06 – The Untouchables – Suffa Ray Shun
07 – Dubmonger & LXC – Dread This Land
08 – Morphy & The Untouchables – Tread This Land
09 – LXC & The Untouchables – Dreader Than Land
10 – Flatliners & Mr. Foul – Jah Victory
11 – Diphasic – Backbone Dub
12 – The Untouchables – War Of Kings
13 – Lowcut – Detachment Dub
14 – Lowcut – All Day Dub
15 – Beam Up – Vibin
16 – Beam Up – Frankie
17 – Beam Up – Gerrup
18 – Rainforest – Jungle Is Our Dub
19 – Lowcut – Seraphe Dub
20 – Jahdubtahz – Dub Street
21 – Rainforest – Dub To Jungle
22 – Diphasic – Reason
23 – E3 – Higher Sense
24 – Sam KDC & The Untouchables – Alliance
25 – RUZ – Broke Dub
26 – Theory – I Saw You Girl
27 – RUZ – Love Beyond Price (Toni Wobble & RUZ Dub Dish)
28 – Phuture T – Dubber Ella
29 – Phuture T – Ella In Dub