Was A Be – DNB60 Mix for Friction D&B Show BBC Radio 1 (April 2017)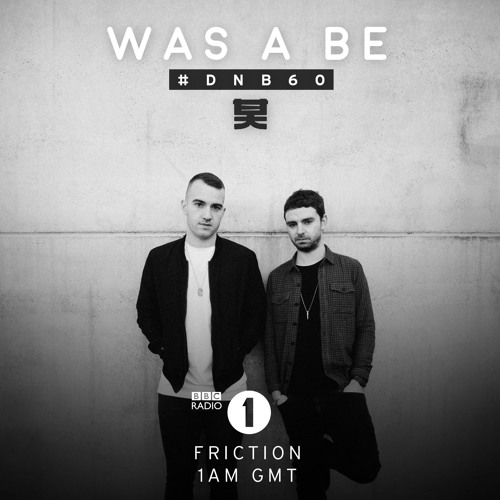 Das Drum & Bass Produzenten Duo Was A Be aus Italien hat gerade eine EP auf Shogun draussen, die mir mit ihrer Mischung aus Footwork, Jungle und Drum & Bass zusagt. Ihr Sound ist nicht gerade zurückhaltend, sondern eher direkt was für den Dancefloor, triggert da bei mir aber genau die richtigen Rezeptoren.
Nun waren sie mit einem Mix bei Frictions DNB60 Reihe vertreten und gehen in den 60 Minuten auch direkt in die Vollen. Hier gibt's den kompletten Mix noch einmal zum Nachhören auf soundcloud.
Tracklist:
Was A Be – Plateau
Rockwell- 14ME
Tusais – Blackout
Shades- Creepin'
Was A Be & SynthEthics – 4 to the floor
Spectrasoul – Four Points [2016 VIP]
Culprate x Tru Fonix – Solarised (KLAX rmx)
Neve – Magic Flute
Kiril – Ugo
The Way – Was A be 2017 Re-Fix
Rockwell – Pulse OSX
Think Tonk – Setman
J Kenzo – Skatta VIP
Was A Be – Jah
Machinedrum – Dos Puertas (Alix Perez rmx)
Fracture & Neptune – Whatever
Foreign Concept – Skit City (ft Fox)
Was A Be & Neve – Jamming
MVRK – Start From Basic
Break & Spectrasoul – Inside
Klax – Risk it
Was A Be – Bench
Kiril – Oh!
Friction & KTee – Set It Off (?? rmx)
Digital – Deadline (Dub Phizix rmx)
Spectrasoul – Beat Keeps
Was A Be – Brainstorm
Was A Be – ??
Kiril – Stock Hatsow
LeStR – Closure
Kiril – ??
Mikal – No one else
Ulterior Motive – Inta National VIP
Was A Be – Hypnos
Bungle – Cocooned
Foreign Concept & Halogenix – Waiheke Wine Club
Neve & Wild Hits – Everytime