Blu Mar Ten – Apple Hotel Mix (2007)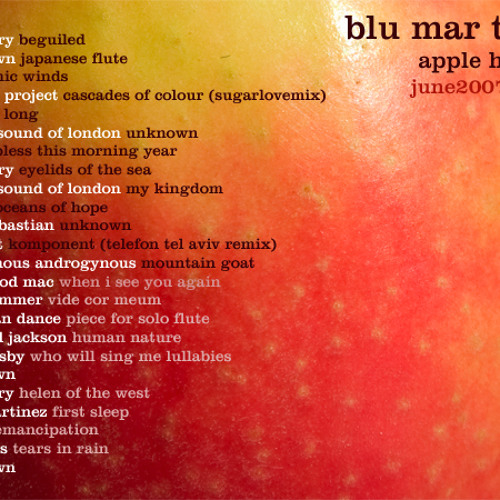 Zwischen 2005 und 2006 fertigten Blu Mar Ten drei wahnsinnig schöne Mixe an, die jedem gefielen, dem ich sie gezeigt habe. Das Rezept ist recht simpel: Man nehme ein paar absolute Radio-Pop-ChillOut-Klassiker, garniere sie mit eigenem Material und Favourites, ein paar passende Samples obendrauf: Fertig! Was sich hier so einfach anhört ist doch eine Menge Arbeit und doch sind dabei perfekte Mixe herausgekommen. Unbedingt anhören: Made With Love, Face Of The Earth und The Space Between Us.
2007 arbeiteten die beiden mal wieder an "so einem" Mix, die Datei geriet in Vergessenheit und nun, drei Jahre später, haben wir trotzdem die Möglichkeit dem "Apple Hotel" Mix zu lauschen.
https://soundcloud.com/blumarten/blu-mar-ten-apple-hotel-mix-june-2007